Centro Infantil Bellota -- Volunteering at the Centre
Volunteers make a huge contribution to work at the Centre, and are warmly invited to share in the task of caring for children there.
There are two main options for volunteer work:
Volunteers working WITH children
Volunteers working FOR children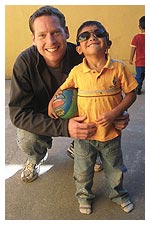 In order to provide stability for children at the Centre, we ask those working directly with children to make a commitment of at least a month. Direct work with children is richly rewarding, but can also be rather exhausting, and we generally encourage these volunteers to set aside part of their time each day to work on preparing resources, carrying out art projects, doing repair work, or helping with administrative tasks, depending on the volunteer's particular interests.

There is a wide variety of work to be done at the Centre, and those with less time available, with more limited Spanish, or with particular skills can offer very valuable support by preparing play resources, developing a garden area, repairing broken toys, making children's costumes, decorating the Centre's walls, translating documents, promoting the Centre locally, fund-raising, or carrying out a range of other creative projects for the benefit of children.
| | | |
| --- | --- | --- |
| | Volunteers bring the Centre fresh ideas, new perspectives, a wealth of different experiences, a variety of skills, and contact with various parts of the world. We are delighted to have had the chance to work alongside some wonderful people and are extremely grateful for all the support they have given. | |
"My time as a volunteer at CIB was wonderful and also very informative. The relationships between staff and with the children are very caring. This creates a very warm and pleasant atmosphere."

- Dorothea, volunteer from Germany
"My time at the Centro Infantil Bellota was great fun: an excellent experience. The welcome that I received from Pati was very kind and informative. And the food was delicious!"

- Candida, volunteer from Australia
"I liked to work there because all the persons there are very, very nice!! They love the children and try very hard to give them a good time, and have very good ideas. It is very positive that the volunteers can realise their ideas….. It was a great time and I will miss all the people of the CIB so much! Thank you!"

- Marie, volunteer from Germany